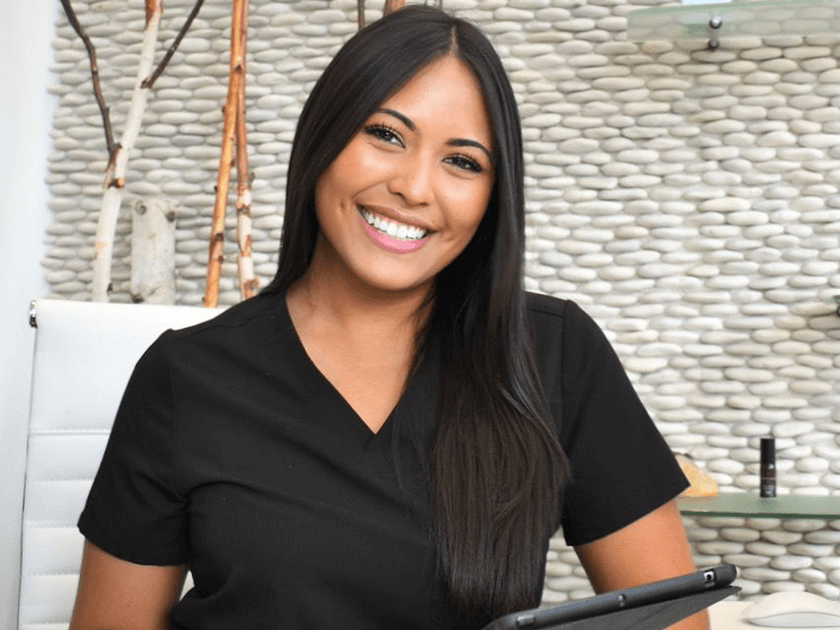 Tylar is a registered nurse, born and raised in the city of Chicago, with a passion for aesthetic medicine. She graduated with a Bachelor of Science in nursing at Milwaukee School of Engineering in Milwaukee, Wisconsin. Shortly after graduation, she started her journey as a nurse in the operating room at Wisconsin's largest hospital, Advocate Aurora St. Luke's. She worked alongside leading surgeons in general surgery, vascular surgery, plastics, orthopedics, and neurology. Once she moved back home to Chicago, she was charge nurse for a private practice physician who specializes in pain management and minimally invasive surgical procedures. Tylar's extensive background has allowed her to have a deeper understanding and foundation in facial anatomy and aesthetics. She is certified and trained in neuromodulators (Botox et cetera), facial fillers, PRP therapy, Morpheus8, facial lasers, laser hair removal, Micro-needling, HydraFacial's, and more.

With the amazing opportunity to join Elysium Surgispa, Tylar has developed an artistic ability and eye for enhanced beauty with natural results through intensive training and shadowing under the talented Dr. Mick Singh. What she values most about Dr. Mick is his aesthetic eye for natural-looking cosmetic outcomes, gentle approach, and dedication to educating patients. Working alongside Dr. Mick, Tylar strives to create a comfortable and safe experience for patients to reach their aesthetic aspirations.

In her free time, Tylar enjoys being with family and friends, taking walks along the lake or Chicago river walk, volunteering at Animal Care and Control, and exploring new restaurants around the city.
Testimonials
"Plenty of metered street parking outside the building. $4.75/hour. There's a park right across the street, which looks beautiful, so for those with kids *hint hint*When I walked in, the lobby looks beautiful, organized, and smells great. Wish I took a picture to share with you all.Bathroom was clean.Heard about the rave of Hydrafacial and saw a deal off Groupon so bought it to try. They start you off with a skin analysis using VISIA. It was nice to see areas of concern. The analysis points out spots, wrinkles, texture, pores, UV spots, brown spots, red areas and porphyrins (bacteria on face). High scores means good, low not so good. It was reassuring to know I scored high in UV and porphyrins meaning my sunscreen application has been good and my face is clean from bacteria. Victoria was my esthetician. She's very nice, informative and gentle. The session was relaxing. She paid really good attention to my blackheads. After using the equipment for extraction she did manual extraction, which I appreciate. Manual extraction was the most discomforting, but tolerable for me. Victoria was nice enough to take before and after pictures for me. My skin is sensitive so I had some red spots after the treatment but was told it'll go away in a few hours. You can see after the treatment my is more hydrated based off the diminished lines. Blackheads not as visible. Victoria will give you recommendations post treatment, for me it was adding vitamin C into my regimen. She she didn't push any sales or product onto me. Hydrafacial maintenance is every 4-6 weeks. I'm all about self care, but don't think I'll be doing it every 4-6 weeks, maybe 8 weeks :p. They do have packages so do ask about the pricing for that if you want to save in the long run."
E.L.
Yelp
"Tylar did a great job. My skin looks great"
K.W.
Google
"Had an amazing experience! Well worth it. Was really impressed with the photo analysis. Broke down the composition of my face. That was included with the facial. My esthetician Tyler was knowledgeable and sweet. Facilities are clean and staff was friendly."
M.R.
Google
"Elysium has been my go to SurgiSpa for over 5 years now. I absolutely love their staff and have dealt with each individual over the years with nothing but wonderful things to say about each of them. They can answer any questions that you might have and are consistently educated on the newest treatments and options for your skin. Dr. Mick is very well versed in many different treatment modalities and makes reasonable suggestions depending on your concerns and his evaluation. He's extremely educated and personable which can be a tough combination to find. I have been seen by Tylar and Swlvia over the years and again the feel is always consistent, I am never rushed, I feel like I am in good hands and both providers are professional. Victoria has been my esthetician and has performed multiple hydrafacials on me. She does such a fantastic job and I'm always getting compliments after my facials with her. She gives great suggestions for my skin to look it's best. Allison is the practice manager and is always so patient when scheduling my appointments. She works with me and always has a smile on her face. The practice is always clean and well tended to. The location is very easy to get to with plenty of metered parking. Overall, I love this place. Highly recommended!"
N.S.
Yelp
"I absolutely love this spa!!! It is definitely a place to come to for every service!! I am so pleased with everything including all the latest technology that is available! Dr. Mick and his staff are the absolute best!! They all take the time out to make you feel comfortable and listen to all your needs!! I wouldn't go anywhere else! I recently tried Morpheus I am taking Dr. Micks advice and I am very excited to see the results! Victoria is amazing I have definitely seen a difference in my skin and face! I love the environment and cleanliness that this spa offers! From start to finish you will definitely feel appreciated and welcomed! Tyler has given me the best advice in making sure to target areas that concern me. I have tried Morpheus for the second time and I definitely see a difference in my abdomen."
D.F.
Google