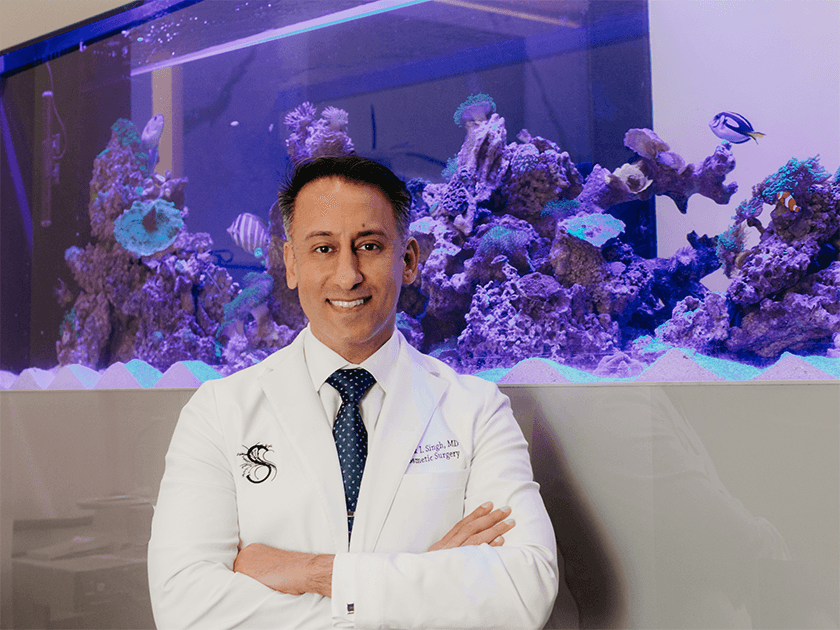 Dr. Mick Singh is a board-certified physician and surgeon who excels in aesthetic treatments to enhance the appearance of the face and body. Dr. Mick is dedicated to helping patients look and feel beautiful with skin rejuvenation treatments, nonsurgical laser procedures, and innovative techniques for body contouring. Dr. Mick is highly knowledgeable in some of the most innovative treatments and advanced technology available today. He believes that beauty is more of an experience than a physical state and that through the intertwining of medicine and aesthetics, the "beauty experience" can be available to everyone. With his artistic eye and refined surgical skills, Dr. Mick helps patients achieve natural-looking cosmetic outcomes. Dr. Mick is a warm, friendly individual who listens to patients' concerns and helps them feel at ease the entire time.
As a child, Dr. Mick developed a lifelong love of science and space that sparked his initial interest in studying chemistry and physiology at the University of Illinois at Urbana-Champaign. He went on to complete a rigorous doctorate program at Rush Medical College and furthered his medical training with a residency in surgery and anesthesiology. After that, he completed a fellowship at the University of Miami in Florida. During his residency, Dr. Mick joined the United States Air Force to train as a flight surgeon, serving the rank of O-3 (captain). He is proud to serve his country as a member of the U.S. Air Force and still maintains his dream of one day joining NASA to travel to space.
Dr. Mick is proud of his relentless drive and work ethic that helped him achieve his goals from humble beginnings. Outside of his aesthetics practice and duties as a captain in the air force, Dr. Mick enjoys stargazing, traveling the world with his fiancee, and spending time with his family and two dogs.
Testimonials
"The staff goes above and beyond to make you feel comfortable, safe and confident! Very clean and modern space. Dr. Mick and his team have set a new, higher standard for the way things should be done! Couldn't be happier with the facials and injectables I have gotten here."
M.I.
Yelp
"Dr. Mick is the BEST! You always make me feel so comfortable with your knowledge and results. I've always been so happy with my Botox injections...great place overall."
K.D.
Yelp
"I had a wonderful experience at Elysium today. I got lip augmentation (juvederm ultra xc filler I believe), and Botox around crows feet and a little on my forehead. This was my first time getting any kind of filler/injection so I was pretty nervous! But Dr. Mick was great - answered all of my questions and put my mind at ease. He was very gentle and made sure I was feeling fine. I had non existent lips before today, but now I have lovely full lips that still have their original shape. Light bruising on the lips but that's expected. No bruising on my face at all from Botox though.The facility itself is extremely nice and very clean; I felt like I was entering the fountain of youth when I walked in. Lol the staff was professional and prompt as well - they make great use of technology it seems to process patient information."
C.J.
Yelp
"I've been doing Juvederm injections for years now with Dr. Singh and the results are always surprising me in a good way. He has a very soft hand, I hate needles but I can't feel a thing when he is numbing me. His facility in Chicago is beautiful, elegant and very soothing, really state of the art. I can't believe nobody rated this place yet!"
A.G.
Yelp
"Dr. Mick is THE ONLY one I ever let touch my lips! His work is outstanding and I'm always left happy, refreshed, and completely satisfied. He is a really nice guy too which makes the experience that much better. The entire office is more like a spa than a doctors office and everyone is super friendly. The staff there is really thourogh and makes sure you're comfortable from the moment you arrive to the moment you leave. I do makeup for a living and take pride in my appearance. I get compliments constantly on my lips and I'm always sending people to Elysium. Dr. Mick listens to what I want every time and always delivers. Ana is also outstanding! I've had facials from her and want to try a laser treatment soon. I've been going here since it opened and nowthey have a customer for life!"
S.T.
Yelp
Related Posts