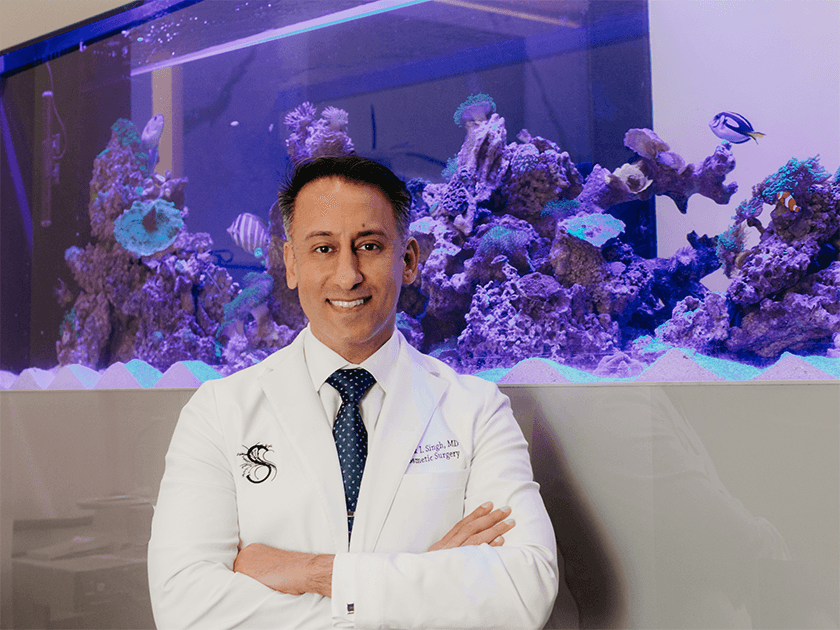 Dr. Mick Singh is a board-certified physician and surgeon who excels in aesthetic treatments to enhance the appearance of the face and body. Dr. Mick is dedicated to helping patients look and feel beautiful with skin rejuvenation treatments, nonsurgical laser procedures, and innovative techniques for body contouring. Dr. Mick is highly knowledgeable in some of the most innovative treatments and advanced technology available today. He believes that beauty is more of an experience than a physical state and that through the intertwining of medicine and aesthetics, the "beauty experience" can be available to everyone. With his artistic eye and refined surgical skills, Dr. Mick helps patients achieve natural-looking cosmetic outcomes. Dr. Mick is a warm, friendly individual who listens to patients' concerns and helps them feel at ease the entire time.
As a child, Dr. Mick developed a lifelong love of science and space that sparked his initial interest in studying chemistry and physiology at the University of Illinois at Urbana-Champaign. He went on to complete a rigorous doctorate program at Rush Medical College and furthered his medical training with a residency in surgery and anesthesiology. After that, he completed a fellowship at the University of Miami in Florida. During his residency, Dr. Mick joined the United States Air Force to train as a flight surgeon, serving the rank of O-3 (captain). He is proud to serve his country as a member of the U.S. Air Force and still maintains his dream of one day joining NASA to travel to space.
Dr. Mick is proud of his relentless drive and work ethic that helped him achieve his goals from humble beginnings. Outside of his aesthetics practice and duties as a captain in the air force, Dr. Mick enjoys stargazing, traveling the world with his fiancee, and spending time with his family and two dogs.
Testimonials
""Every single person at Elysium is incredibly kind and always makes me feel so special when I'm there. Dr mick is so very good at what he does and always spends time listening to my concerns and making me feel good about myself."
M.B.
Google
"I absolutely love this spa!!! It is definitely a place to come to for every service!! I am so pleased with everything including all the latest technology that is available! Dr. Mick and his staff are the absolute best!! They all take the time out to make you feel comfortable and listen to all your needs!! I wouldn't go anywhere else! I recently tried Morpheus I am taking Dr. Micks advice and I am very excited to see the results! Victoria is amazing I have definitely seen a difference in my skin and face! I love the environment and cleanliness that this spa offers! From start to finish you will definitely feel appreciated and welcomed! Tyler has given me the best advice in making sure to target areas that concern me. I have tried Morpheus for the second time and I definitely see a difference in my abdomen."
D.F.
Google
"Elysium has been my go to SurgiSpa for over 5 years now. I absolutely love their staff and have dealt with each individual over the years with nothing but wonderful things to say about each of them. They can answer any questions that you might have and are consistently educated on the newest treatments and options for your skin. Dr. Mick is very well versed in many different treatment modalities and makes reasonable suggestions depending on your concerns and his evaluation. He's extremely educated and personable which can be a tough combination to find. I have been seen by Tylar and Swlvia over the years and again the feel is always consistent, I am never rushed, I feel like I am in good hands and both providers are professional. Victoria has been my esthetician and has performed multiple hydrafacials on me. She does such a fantastic job and I'm always getting compliments after my facials with her. She gives great suggestions for my skin to look it's best. Allison is the practice manager and is always so patient when scheduling my appointments. She works with me and always has a smile on her face. The practice is always clean and well tended to. The location is very easy to get to with plenty of metered parking. Overall, I love this place. Highly recommended!"
N.S.
Yelp
"Dr. Mick is a true artist and is always up to date with new techniques... I'm always very happy with my results. **UPDATE** I have been traveling a lot in recent years and just doing my botox at my dermatologist just to kill two birds with one stone or just getting in where I can, when I can bc I guess Botox and fillers just hasn't been a priority to me recently… I finally had a chance to go back and see Mick and my botox kicked in right away and is staying strong! I forgot how much I love botox when done correctly…Im back to being addicted to botox again bc the results can be soo dramatic if that's the look you request! It is worth it for me to make the extra effort to see Dr Mick! The last time I woke up looking this fresh was probably the last time Dr Mick was doing my Botox!"
V.D.
Google
"After turning 50 I decided it was time to get some botox work. I was looking for a River North location. I did some research and found Dr Mick. He took time to speak with me and answer all my questions.  I cant be any happier with the results.  Would highly recomend Elysium SurgiSpa"
J.P.
Yelp
Related Posts
Related Offers